and What We're Doing About It
With the Muppets back on TV, Muppet Hub simply must find its own unique ways of celebrating.  So, here are our three main projects that we'll be working on that will make enjoying The Muppets on ABC that much more fun.
Let's Talk Muppets
The Muppet Review Podcast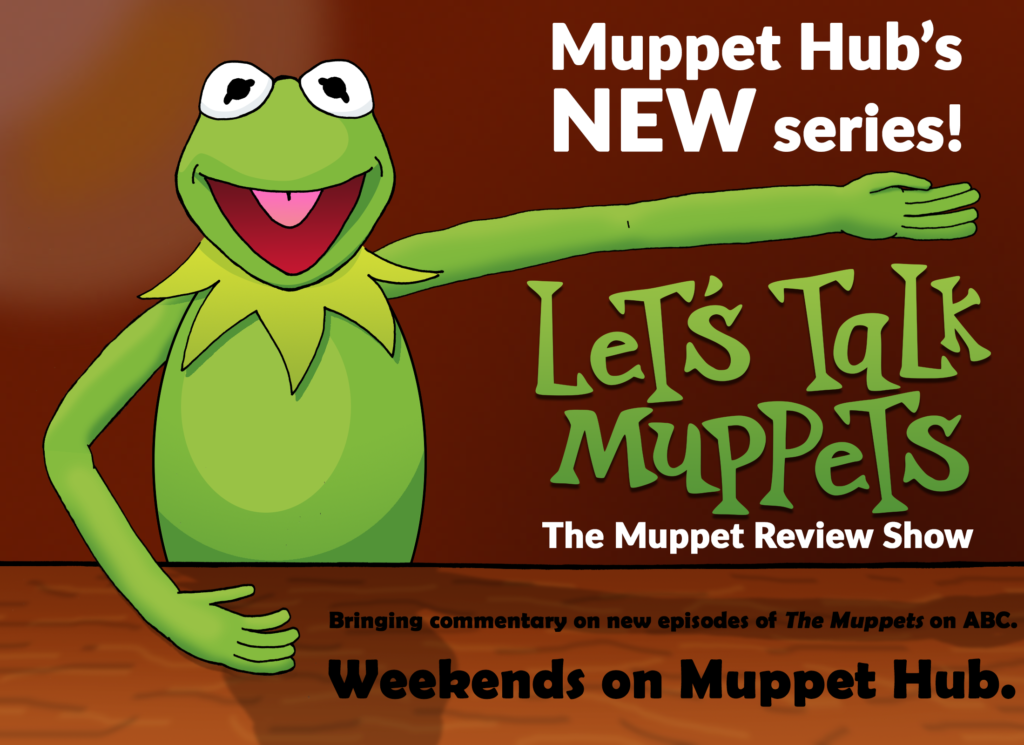 This branch of 11PC is devoted solely to discussion of recent episodes of The Muppets on ABC, and it will feature different co-hosts coming in to give their thoughts.
The show takes place at Rowlf's Tavern, and the menu is filled with all kinds of fun segments, including Burned Hamburgers, Devil's Advocate, A Toast & a Roast, and more!
Join in the fun by emailing YOUR thoughts on the new show to tavern@muppethub.com, or Tweeting the show @NewMuppetShow.
You can listen to this new show right here on Muppet Hub, in the usual iTunes feed, or – if all goes according to plan – on 11PC's YouTube channel.
The New Muppet Show
Live-Tweets!
I had a lot of fun live-Tweeting the first episode, and I'd like to continue doing it for each new episode.
Here are some of my favorite highlights from the first live-Tweet:
It's time to light the lights! Or whatever they do in the new show!

— The Muppets Period (@NewMuppetShow) September 22, 2015
Andy and Randy?! — The Muppets Period (@NewMuppetShow) September 23, 2015
@NewMuppetShow @jd11pc Too much Botox.

— Dis_Podcasters (@DisPodHangout) September 23, 2015
Carl got an interview?! #MuppetsABC — The Muppets Period (@NewMuppetShow) September 23, 2015
Follow along on the Let's Talk Muppets feed, @NewMuppetShow.
Tweet us YOUR thoughts on the show, and maybe you'll get re-Tweeted, or even mentioned in an episode of Let's Talk Muppets!
The Dirty Muppets Project
Alright, here's the deal.  We're tired of hearing people complain about how the new Muppet show isn't family-friendly enough, and it seems that everyone thinks everything the Muppets do ought to be completely clean and child-oriented.
I have a problem with this.
We big Muppet fans know that they've done a lot of stuff that's not very G-rated, and we'd like to make that clear to everyone else.
So, here's what I propose: let's make a video compilation of all the times the Muppets said or did something that your grandma's pastor would hate, whether it's sexual references, alcohol consumption, crude jokes, or pretty much anything in the Liza Minelli episode of The Muppet Show.
I want YOU to contribute your ideas for some of the "inappropriate" things the Muppets have said and done, which you can do by emailing me at me@muppethub.com, or contacting Muppet Hub through one of our social media outlets.  I'll be sure to get the obvious ones myself – Rachel Welch's dancing, Cindy Crawford's balloons, etc. – but if you remember something that's lesser known, I wanna be sure it's included.
Together, we can show the world how disgusting the Muppets can be.  And that's what Muppet fandom is all about, right?
The New Muppet Show