This episode of 11PC features a new(ish) interview with the creator of Muppet podcasting as we know it (if that's a term) Steve Swanson!  And guess what!  He's starting a new podcast!  His podcast is called The Backstage Podcast and you can find it at BackstagePod.com.
Other topics we discuss include Muppets Most Wanted, FrogFan76, the state of Muppet fandom, our experiences with podcasting, Muppet music, and Ryan Dosier.  No, really, Steve had a lot to say about Ryan Dosier, and I really hope Ryan takes it in the spirit in which it was intended… whatever spirit that is.
Also, you can see the current design for the T-Shirt that Steve and I were discussing below, but I think that the Muppet fan community can do better.  So be sure to email me if you have a design you'd like me to use, an idea for a design, or any questions, suggestions, or comments about it, with the subject line saying "Seasons 4 and 5 T-Shirt".  I'd really like to make this T-Shirt, and more importantly this slogan, a thing that catches on and makes a difference.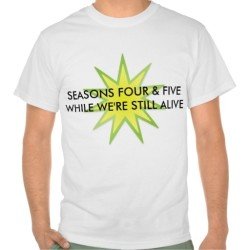 Contact 11PC at jd11pc@gmail.com, follow 11PC at twitter.com/jd11pc, and like the Facebook page at facebook.com/jd11pc.
Podcast: Play in new window | Download (Duration: 1:22:55 — 151.8MB)
Subscribe: Apple Podcasts | Android | RSS