After the release of the Puppet Rants video on bad Muppet merchandise, I got a request to showcase my whole collection of Muppet stuff.  Since it's been a while since I've done that anywhere, and since Muppet Hub hardly ever publishes articles, I figured I might as well put together a brief summary of what I have.  So, here's an overview of the collection for those who are curious.
[one_half]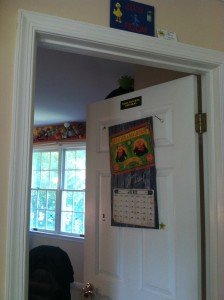 [/one_half]
[one_half_last]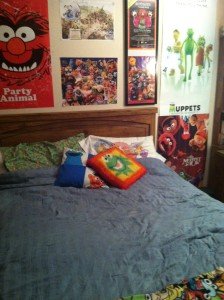 [/one_half_last]
When entering my bedroom, you'll notice a sign above my door with my name on it that I've had since I was very young, and you'll see my Muppet calendar proudly displayed on my door.  Constantine watches the door from above.  You can also see my Sesame Street window decorations in the left picture.  As you can see in the picture on the right, I've got a lot of Muppet posters.  The Fraggle poster (above the Muppet Show poster above the bed) is from the Fraggle Rock Complete Series Collection.  The top poster in the frame is from Jim Henson's Fantastic World, and the bottom one is came with a record album.  The big poster in the top right is from O.P.I.  I sewed the Kermit pillowcase myself, and a friend made the blanket seen at the bottom of the picture.
[one_half]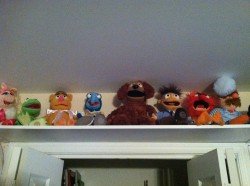 [/one_half]
[one_half_last]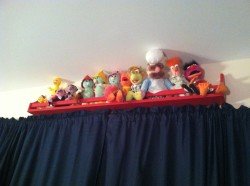 [/one_half_last]
The left picture shows the remaining Disney Store plush dolls to accompany my Constantine.  The Walter and the Rowlf are probably the most special to me out of all of them.  In the right picture, going from left to right, this shelf features my Big Birds, Jerry Nelson character plush dolls, Doozers, small Fraggle plush dolls, and the Leprechaun Brothers.
 [one_half]
[/one_half]
[one_half_last]
[/one_half_last]
I have a lot of lunchboxes, and I have both editions of Muppet Monopoly, because someday my friend will dare me to put the two boards together and do MegaMonopoly, which I hear can take weeks to play.  On my shelf of small Muppet collectibles I have Star Wars figures, bath toys, Happy Meal toys, finger puppets, cake toppers, toy cars, and more.  On top of that shelf I have some items that I've had since my early childhood.
[one_half]
[/one_half]
[one_half_last]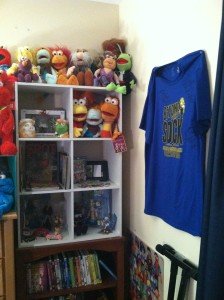 [/one_half_last]
The Muppet Treasure Island poster is very special to me because I've always loved that movie, and many casual fans feel the same as I do about it.  On my dresser I have Sesame figures in a toy based on 123 Sesame Street, and random merchandise that is based on Jim Henson and Frank Oz characters.  Above them and to the right are a bunch of Elmo things, and then up on top of the white shelf on the right are my bigger Fraggle plush dolls, a honker, Kermit and Piggy dolls, and Fizzgig.  Below the Fraggles are Kermit and Piggy salt and pepper shakers, Kermit and Piggy mugs, Fraggle puppets, magazines and comics, pins, cars, a few Palisades, and more.
[one_half]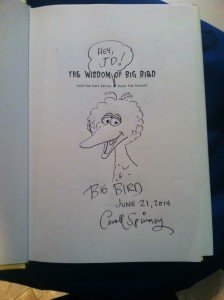 [/one_half]
[one_half_last]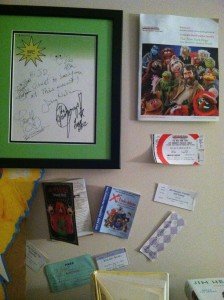 [/one_half_last]
On the left, my copy of "The Wisdom of Big Bird" was signed by Caroll Spinney, the puppeteer of Big Bird, who of course wrote the book.  On the right, you can see that I get around.  I've got tickets and programs from many neat Muppety events, and autographs from Kevin Clash, Eric Jacobson, Bill Barretta, Dave Goelz, and even Jerry Nelson.
That's most of the key parts of my collection that I have on display right now.  Maybe I'll get the chance to show off some of the other Muppet stuff I have in the future if readers are interested.  Still, I'll finish with my cell from 1979's The Muppet Movie which happens to be from the scene with Kermit on his bicycle, and my copy of the 2011 Muppet movie, signed by Walter and Peter Linz.