From Gortch to England
"The Muppet Show, to a degree, was an overnight success, but like any overnight success, it took twenty years to get there."
– Frank Oz
[one_half]
     In the early 1970s, Henson's next big goal was to create The Muppet Show.
     "Our pitch for presenting the Muppet case to the networks was that this was a family show, a show that would appeal to all age groups.  The network didn't feel that it was possible for us to reach both children and adults." – David Lazer, Executive Producer
     "They always said the Muppets were child-oriented and adults wouldn't watch."  – Jim Henson
     In 1975, the Muppets appeared on a new program called Saturday Night Live.
     "The segments' themes were edgier and adult.  For Jim, it was a return to late-night television and an opportunity to remind people that his work was not just for kids." – Karen Falk, Henson Archivist
     The networks still did not believe that a puppet show could reach all age groups, but Lew Lord Grade, a big show business entrepreneur, thought differently.
     "I knew he was talented based on what I saw on the screen, because it needed some kind of genius to figure out how to do those things." – Lew Lord Grade
     He put The Muppet Show show in world-wide syndication.
     "At that time, all we were doing is taking a chance with 24 episodes.  I had no idea, and it would be foolish to say that I did, that it would be such an extraordinary, phenomenal success." – Lew Lord Grade
[/one_half]
[one_half_last]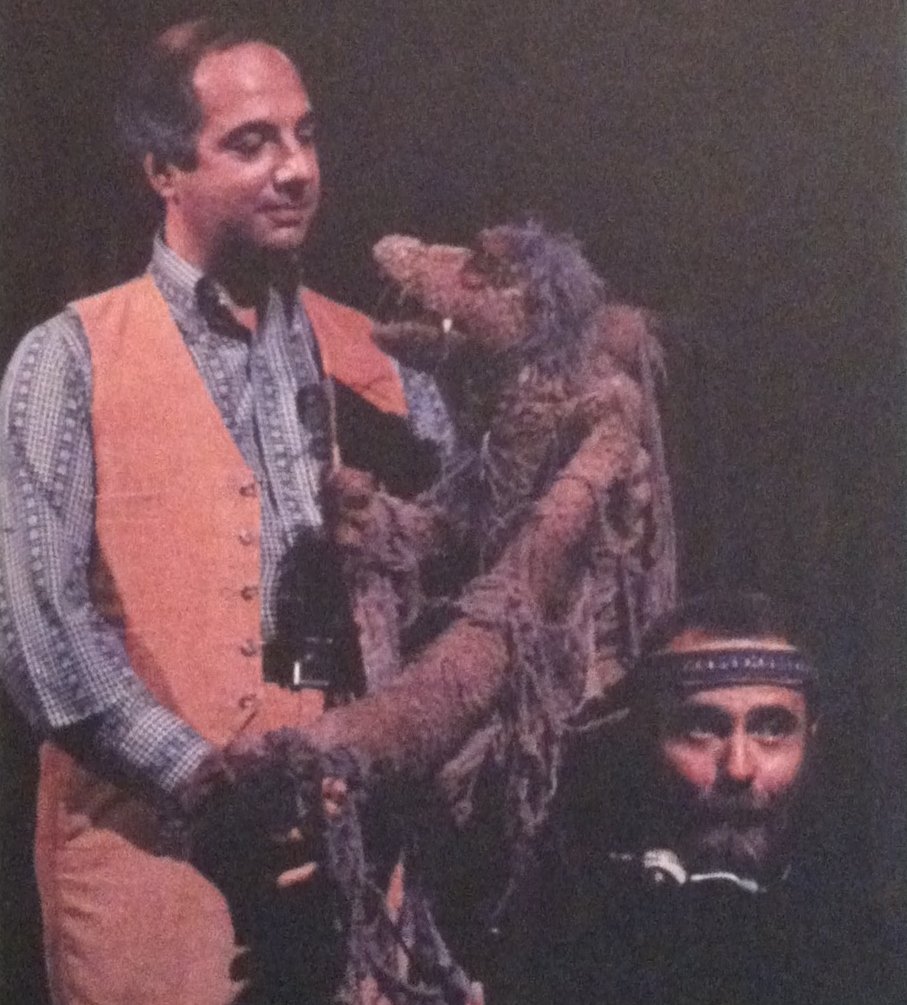 [/one_half_last]
Muppet Mania
"In 1976, Henson brought his Muppets to prime time with The Muppet Show…. Broadcast in more than 100 countries, it became the most popular television show in the world."
– Whoopi Goldberg
[one_half]
[/one_half][one_half_last]
     "In the very beginning, we couldn't get anybody to do the show except a couple of friends… and then, as it caught on, many wanted to do it." – David Lazer
     "They were fighting to get on." – Lew Lord Grade
     Juhl remembered "a guest star literally saying to me on the phone, 'Don't ask me what I wanna do.  I'll do anything you tell me to.  You people know what you're doing and I like it, and that's why I'm doing the show.'"
     "The concept of taking and designing a show around a guest star each week worked out very nicely….  When we were doing the show, each guest would come in and the whole show would change personality." – Jim Henson
     A large variety of impressive guests had a great time doing the show.
     "Pretty soon you don't want to talk to people anymore.  You just want to talk to Muppets." – Steve Martin
     Lazer said that the show was, internationally, "enormously successful.  We were in 106 countries, and it was dubbed in five languages, and we had 235 million people a week watching it."
     In England, 1977 was the Year of the Strike, and the electrical worker would often cut the power at night.
     "The electrical union put out a news release stating that they would not cut the power anywhere while The Muppet Show was being broadcast.  They genuinely feared the public's reaction.  The show ran on Tuesday nights in England, and when the credits started to roll, I would look out my windows and watch 60 or 70 blocks of London instantly go black." – Joseph Bailey, Muppet writer
[/one_half_last]
Henson Takes Hollywood
"Life's like a movie…"
– Kermit the Frog
[one_half]
     Now Jim wanted to make The Muppet Movie, but people questioned the possibility of puppets making a full-length movie. It had never been done.
     "The Muppet Movie is the reverse of The Muppet Show. On the television show we invite one guest into the world of the Muppets. In the movie, we are taking the Muppets out into the real world." – Jim Henson
     The Muppet Movie was a success, grossing $65,200,000. "The Rainbow Connection" ranks #74 on the American Film Institute's top 100 songs in American cinema.
     "We opened to great reviews and the audience showed up in droves-though some took mass transit because droves were too hard to drive. And when they came out of the movie, what did each and every one of them want to know: 'How did you ride that bicycle?'" – Kermit the Frog
[/one_half][one_half_last]
[/one_half_last][one_half]
[/one_half][one_half_last]
[/one_half_last]