The Muppets Rise to Fame
"So here they are now – the Muppets!"
– Ed Sullivan
[one_half]
     In the mid-1960s, Jim Henson was making commercials, pilots for television programs, short films, and appearances on variety shows, thus making his name known.  Also, his team was growing.
Frank Oz joined Muppets, Inc. in 1963, a few years after Jim was impressed by one of his puppet shows at a puppetry festival.  When Oz joined, it allowed Jerry Juhl to focus on writing, rather than puppeteering.
"Immediately, Jim and Frank started performing very well together," said Jane Henson, "and almost the first thing that Frank did was to play the extra hand of Rowlf, who then had a weekly spot on [The] Jimmy Dean Show."
Rowlf the Dog was the first Muppet to have a regular spot on a nationally broadcast program.  Karen Falk, the Jim Henson Company archivist noted, "From the first show, the network received piles of fan mail for Rowlf and signed a long-term commitment.  Rowlf was an immediate star, integral to the show's successful three-year run."
Don Salin, who had worked for Tillstrom, became Jim's puppet builder.  He started using Antron fleece to make the puppets because that particular fabric would hide the puppets' seams.  He also made use of the "Henson stitch," a very time-consuming method (that Jim invented) of sewing the fabric together.  With Salin building, Jim could focus on designing the puppets, performing the characters, and running the business.
The Muppets made many appearances on variety shows.  They were popular guests on The Ed Sullivan Show, where they were already making a name for themselves in the entertainment industry.  The Muppets performed acts similar to those they had done on Sam and Friends, but with less lip-syncing to songs recorded by other artists.  Most acts featured a song, an explosion, a monster, a Muppet eating a Muppet, or a combination of some sort.  Among the Muppets making these appearances were Mahna Mahna, Snerf, and Kermit, who was a frog by this time.
The Muppets also did commercials for various products, including Southern Bread, Wilson's Meats, Wilkin's Coffee, and La Choy Chow Mein.  The dragon puppet used in the La Choy commercials was unique because it could breathe fire.  In one of these commercials, a mother who needs to feed twelve Cub Scouts is in a supermarket, and the La Choy Dragon appears, suggesting La Choy Chow Mein.  This startled mother was played by Beverley Owen, the girlfriend of Jon Stone.  In a few years, Jon would produce Sesame Street.
[/one_half][one_half_last]
[/one_half_last]
The Idea That Changed Education
"Do you think television could be used to teach young children?"
– Lloyd Morrisett
[one_half]
     According to Sesame Street writer Joseph Bailey, "There were many people who contributed to the creation of Sesame Street: Joan Ganz Cooney, who conceived of educational television commercials for children;  Jim Henson, who created the wonderful Muppet characters, the puppeteers who performed them, Joe Raposo, who wrote all the music, and Jon Stone, the producer who also wrote the show's pilot."
Joan Ganz Cooney was a producer at WNDT, Channel Thirteen.  She and her husband invited Lloyd and Mary Morrisett over for dinner one night in 1966.  After dinner, they discussed television.  At one point, Morrisett asked Cooney, "Do you think television could be used to teach young children?"
"I don't know," she replied, "but I'd like to talk about it."  The Cooneys did not know that Morrisett, then a vice president for the Carnegie Corporation, was working to find ways to stimulate the intellect of preschoolers.
"Carnegie had begun to take interest in what you could do to enrich the preschool curriculum, in particular to overcome the disadvantages that poor children and children from minority groups were suffering when they entered school," said Morrisett.  "The results indicated you could teach children a great deal before they entered school in first grade.  And the children who had that advantageous education early did better in the early school years."
Within a week, they met again to talk about educational programming for children – Morrisett and two associates at Carnegie, and Cooney and Lewis Freedman at Channel Thirteen.  The Children's Television Workshop was created.  In 1968, CTW started assembling a team to produce a show for preschoolers.  The proposal for The Preschool Educational Television Show mentioned puppets, so Jon Stone suggested the Muppets.
"I asked Jon who we should talk to if Jim Henson wasn't available," said Cooney.  "He said that if that was the case then we could make do without puppets.  That's how strongly he and the other producers felt about it."
*****
     "I was sitting up front with some CTW people, and this man came in, dressed in what appeared to me to be hippie clothes with a hippie beard.  He walked into the back of the room and sat there, ramrod straight, just staring ahead, rows and rows from the rest of us.  I whispered to Dave Connell, 'How do we know that man isn't going to kill us?'
"'It isn't very likely,' Dave said.  'That's Jim Henson.'" – Joan Ganz Cooney
[/one_half]
[one_half_last]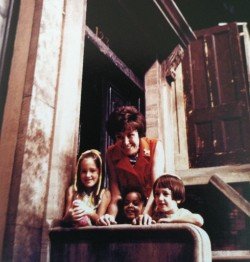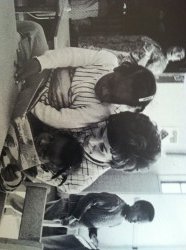 [/one_half_last]
Hi, Welcome to Sesame Street!
"The Children's Television Workshop presents… Sesame Street!"
– Rowlf the Dog
[one_half]
"From the very beginning of Sesame Street, Jim was fascinated with the concept," said Stone.  "He latched on immediately to the idea that was being developed by Joan Ganz Cooney."
"I wanted a hip, Laugh-In type show," Cooney explained, "with humor that children would get something out of but that adults and older siblings would enjoy too….  I also said that we would have four hosts.  In that way we could have men and women, blacks, whites, and Hispanics, and we wouldn't get into a situation where a single host could hold us hostage.  Then we would have the animated pieces and the puppet pieces, and that was the basic skeleton of the show."
Former head writer Jeff Moss used to tell the writers, "You've got two jobs: one is to do a television show that a four-year-old wants to watch.  The second is to do a show that you want to watch."
Sesame Street aired November 10, 1969.  The human characters included Bob Johnson, Mr. Hooper, Gordon Robinson, and Susan Robinson.  The Muppet cast included Big Bird, Oscar, Ernie, and Bert.
Bob McGrath, a successful singer in the late 1960s, was not originally planning on accepting the role of Bob.  However, when he saw Jim Henson's Muppets for the first time, he thought, "This is not like anything I've ever seen before, and this is very innovative and exciting, and I want to do this more than anything I've ever thought of."
Puppeteer Caroll Spinney had created an elaborate show for a puppetry festival a few months before the taping of Sesame.  Jim saw the show, and invited Caroll to "come down to New York and talk about the Muppets."  This meant Jim wanted to hire him.  Caroll was assigned Big Bird and Oscar the Grouch.
Jim originally wanted Big Bird to be "a stupid kind of guy."  One day, a script placed Big Bird in a day-care center, and Caroll decided to change the character.  "I thought maybe he shouldn't be a goofy guy….  He could be a kid – naive and learning."
[/one_half][one_half_last]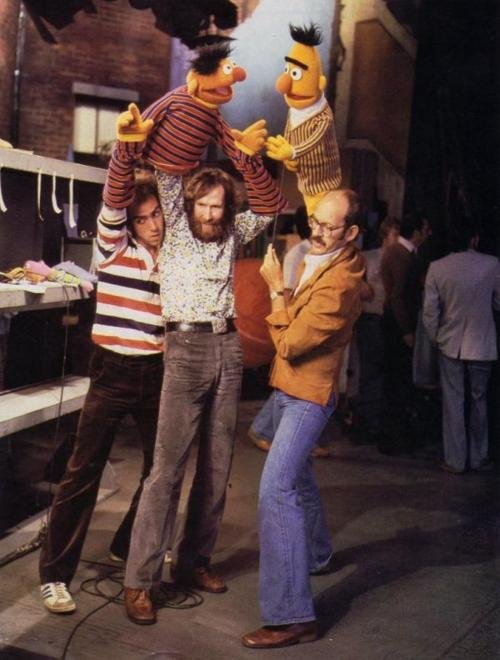 [/one_half_last]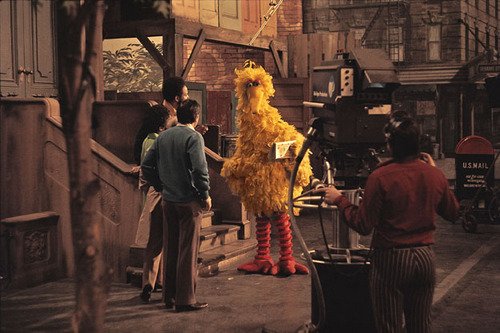 *****
[one_half]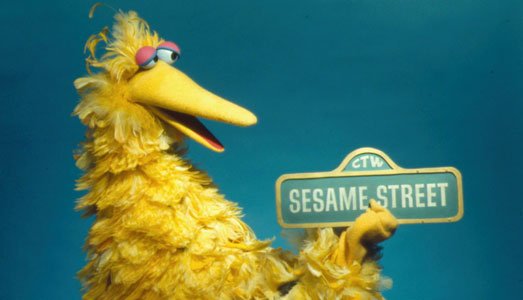 [/one_half]
[one_half_last]
     Monday, November 10, 1969, Sesame Street aired on PBS.  It was an immediate success.  In its second week, Sesame Street reached 67.6 percent of the nation and approximately 1.9 million households.
Only two weeks after the premiere, New York Times claimed, "When the Educational Testing Service of Princeton, New Jersey, completes its analysis in the months to come, Sesame Street may prove to be far more than an unusual television program.  On a large scale, the country's reward may be a social document of infinite value in education."
Variety said that the show was "the apotheosis of education through show business, and anyone who thinks it is all for a small fry should give it an hour.  The show moves, seduces, diverts, dazzles, amuses, and infects and in the captivating course of things it teaches the very basic human values, the meaning of numbers, the alphabet, and solutions to simple problems."
"The show was unbelievably well received," Cooney once recalled, "and soon, foreign countries were asking us to help them create their own versions of Sesame Street until it became the longest street in the world."
In January of 1970, President Nixon sent in a fan letter.  "This administration," he wrote, "is enthusiastically committed to opening up opportunities for every youngster, particularly during his first five years of life, and is pleased to be among the sponsors of your distinguished program."
In November, Big Bird appeared on the cover of Time.  "By the middle of the second season," said Caroll Spinney, "it was clear that Sesame Street was something special.  The people involved were dedicated and extremely creative, and the audience and the press loved the show.  We were reaching kids through humor and good values, and the awards and outside appearances started to come in."
Puppeteers Jerry Nelson, Fran Brill, and Richard Hunt joined the company.  Together with Jim, Frank, and Caroll, they made many of Jim Henson's Sesame Street Muppets household names.  This success was important to the future of the Muppets.
[/one_half_last]